LIGHTNING GODDESS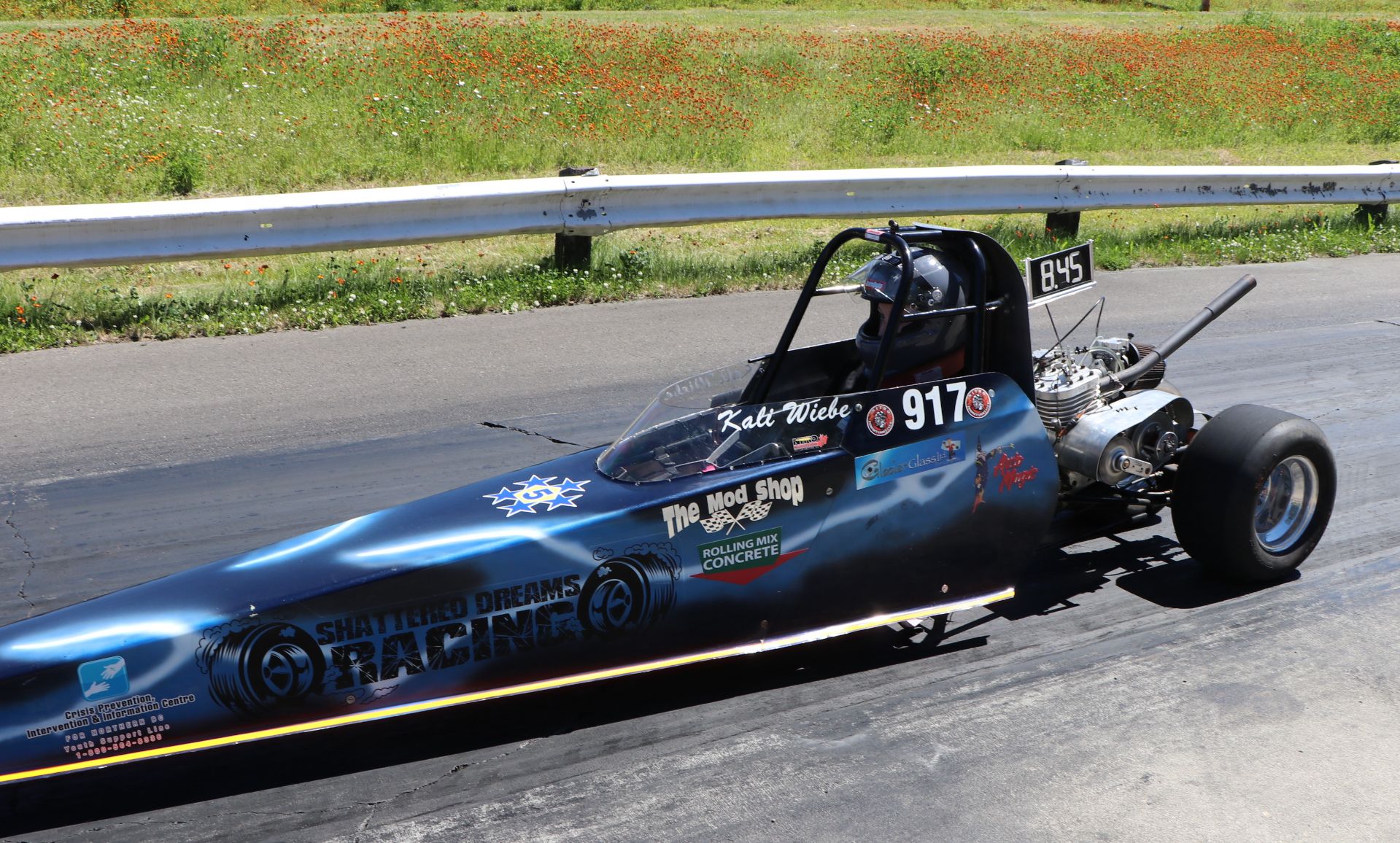 VEHICLE INFO:
BODY: 2004 COSBY CHASSIS
WEIGHT: 250 LBS W/DRIVER APPROX.
ENGINE: 3.25" PURE POWER ENGINE
VEHICLE #: 917
PERFORMANCE:
HORSE POWER: 30 HP APPROX.
TORQUE: ??
BEST LIGHT: .000 X2
1/8 MILE: 8.32 @ 78 MPH
TRANSMISSION: CENTIFRIFICAL CLUTCH
DIFFERENTIAL: HD CHAIN AND SPROCKET
SHATTERED DREAMS RACING JR DRAG RACING
2017-My daughter, Kali has been collecting cans and saving money for the last year to get herself a JR dragster. She is doing well on her JR funding. Lee Brock, a fellow racer from Alaska, was very impressed with her work ethic and took up a collection one race weekend. With the giving spirit of all the racers, she collected over $1000. With all the donations she collected over the last 2 years in the forms of cash and bottles, she is now on the search for a JR dragster.
2018-January we made the trek to Grande Prairie to look at a JR dragster. We ended up coming home with a 2004 Cosby car with an alcohol motor for a power plant. A couple little mods and safety updates the JR will be ready to rock and roll. Roll that little car did. During Kali's Licensing passes she managed a pass in the 1/8 mile of 9.26 seconds at 69.99 MPH. As we slowly got used to the JR she gained more and more confidence. Then it happened, on the turnaround at the end of the track to come down the return road, Kali had a little too much speed and her little JR couldn't handle the turn, she put it on its side. Worst few minutes of my life wondering of my life to this point wondering what had happened as I drove up to the car. Kali was fine, a little shook up but healthy. The JR took a few little scrapes, easy enough to fix. Second to last race weekend of the season we got some excellent results, Kali won her first round, then won the event. We were so excited and proud that she was able to pull this off. Her 1st trophy was a 1st place. The next couple races didn't go so well, even though we got some advice to help Kali with her staging technique and she cut some beautiful lights including a .002, we had some mechanical problems with the JR it would not run consistently. Even though Kali managed to place 6th in her class. This was an excellent learning year for both of us. Next year we will try harder and see if she can place higher.
2019-During the winter months we rebuilt the clutches on the JR and had to replace broken valesprings. This made a big difference in how that little motor operated. I had to turn the throttle down even more from last year to keep her above the 8.90 ET. Kali did manage a 8.75 at 74 MPH. After fighting with some tuning issues at the beginning of the year and some flu issues at the wrong times Kali still managed to place 4th at the end of the year which is 2 spots higher than last year. she showed some improvement in her racing skills including cutting 2 perfect lights back to back. She also went on later in the year to win an event, none other than the coveted Ironman Trophy race, helping to get her confidence level a little higher in the JR. She had an excellent season and is aiming to improve on it again.