MISTRESS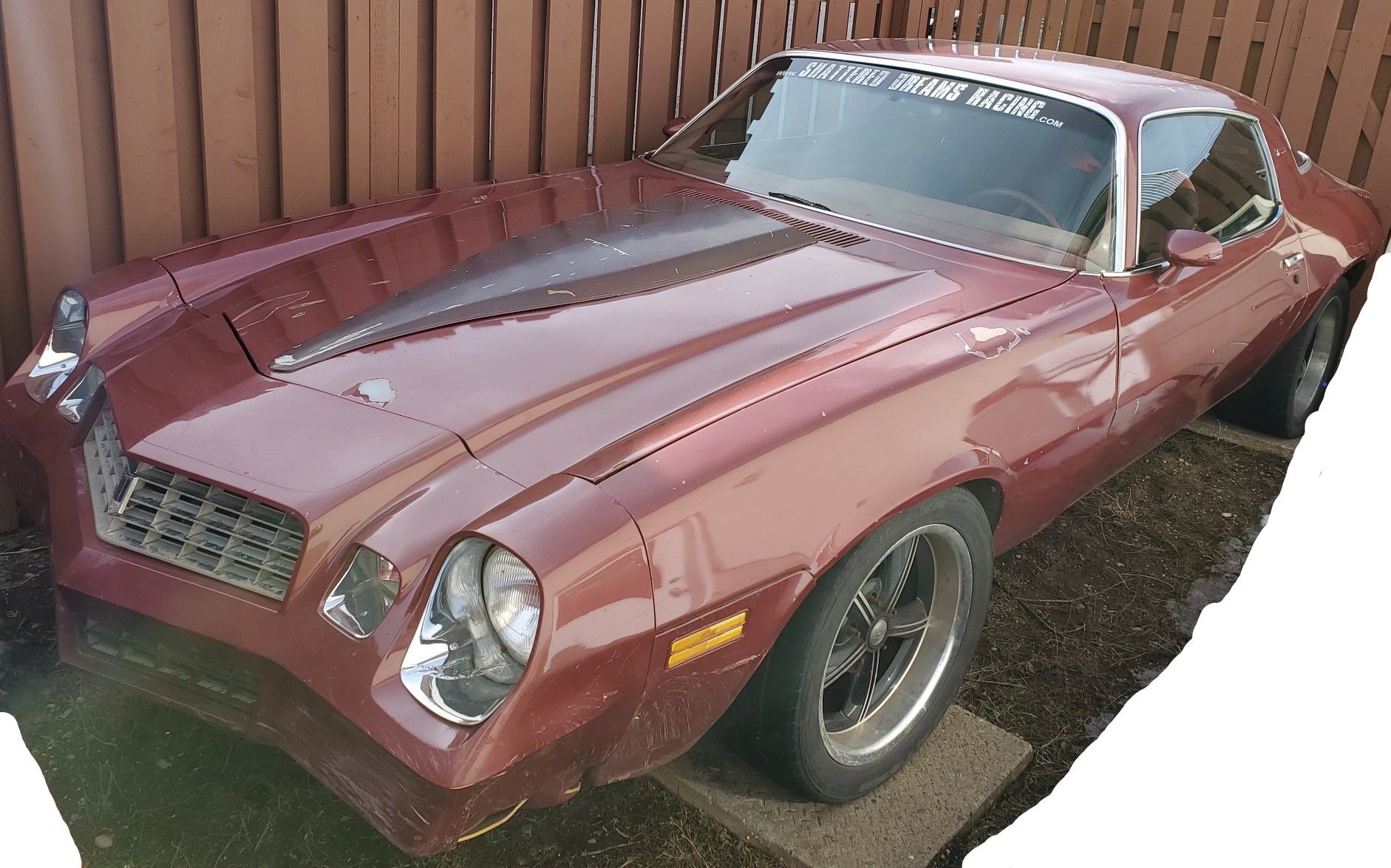 VEHICLE INFO:
BODY: 1979 CHEVROLET CAMARO BERLINETTA
WEIGHT: 3650 LBS W/DRIVER
ENGINE: 2005 CHEVROLET 6.0L LQ4
VEHICLE#: 988M
PERFORMANCE:
HORSE POWER: 450 HP APPROX.
TORQUE: 380 FT.LB. APPROX
1/4 MILE: 12.6 @ 111 MPH
TRANSMISSION: SAGINAW SUPER T10 4 SPEED MANUAL, MCLEOD 11" SUPER PRO CLUTCH
DIFFERENTIAL: 10 BOLT GM, 3.08:1 GEARS, FACTORY POSI, DIFF GIRDLE
I bought the mistress when I was 17 years old, my 2nd car. I was in the final months of grade 12. It was a 79 Camaro Berlinetta, which was a nice comfy cruiser car with what felt like a lot of power at the time. Didn't take me long to start driving fast and deciding the Camaro needed upgrades. First on the list was an exhaust and headers. Wow did I love that sound. Shortly after the camshaft flattened a lobe, it was time for more upgrades. Did some research and made a plan, 305 heads on a 350 for the compression bump, biggest cam the factory springs would handle, an Edelbrock performer intake and an Edelbrock 600 CFM carb. After some tuning got an estimated 325hp. The car would now cover the 1/4 mile in 15.2 at 90 mph and a top speed of 160 mph. After several years of terrible maintenance, the engine started to lose oil pressure. Out came the 350 and in went a bone stock 305 to get me back and forth to work. Due to lack of money, the car was eventually parked. The motor came out and went to my brother who did a stock rebuild on it and eventually found its way back to me again. I took all performance parts from the 350 and installed them on the 305 for a tune of around 300hp and made some people mad. Lol. "what do you mean, that's a 305?" I heard constantly. Eventually, the rear diff broke and I cobbled together a 3.08 open rear differential up from a 2.41 gear ratio. (big loss in top speed/big gain in low-end torque). I used the car as a daily driver for a couple years until I couldn't afford to drive it anymore. (an economical car was purchased) then we started our family and bought a house, the car sat at my parent's house for several years. The engine was sold.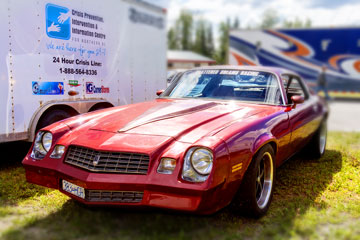 Eventually, a new plan was formed, the auto transmission was sold, and a 454 was pulled from another project I had purchased. A 308 Posi differential and super t10 4 speed was acquired in exchange for labour. The front fenders and nose were pulled from the car in anticipation for the swap and soon it was complete. I know had a big block, 4 speed, Posi differential car. I had more power than I ever had before, I was in my glory. It lasted all of 10 km due to an oversight the engine got so hot and so pressurized that the new lower rad hose blew off the water pump. The car was towed to a shop I was doing all the work in and out came the motor again. Tear down for inspection revealed I needed a rebuild I couldn't afford. Fast forward a couple more years and a move to Prince George from Vanderhoof. The engine starts to get rebuilt. Not just a stock rebuild either. 10.5 to 1 pistons, a solid lifter cam, roller rockers and intake were ordered. All the good machine work was done. I re-assembled the engine and we had some power. Roughly 400 hp and 500 ft lbs of torque. This animal was no slouch now.
I drove it daily put about 500 km on it, I brought it out to the drag strip I pulled a hard 14.2 seconds, made a few more passes, and it started, a noise, valve train? Please be valvetrain. I adjusted it all it looked good. The noise was still there. I trailered the car back to shop. It came off the trailer nice and quiet, I was excited, nope wait!!!!! The noise came back when it got warm. Pulled the engine for some diagnostics. A connecting rod bearing had spun. Time for more new parts.
The car sat again, a couple jobs come and go, then I find one I really like. It was at a parts store/tire shop/mechanic shop. Automagic was all my dreams come true and my wife's nightmare (just kidding). A staff account was started I am the new best customer. Lol. Parts start getting ordered for the big block. A rebuild starts getting planned. A light bulb goes off…… some research is done……. I could put in an lq4 6.0 litre for the same cost. I explain to my wife……..She says…… yes!!!!!!!!! An engine is ordered from the auto wrecker, more parts are ordered, more research, more parts, blown budget, more parts……..Lots of fabrication, lots of wiring, more research…. It's alive!!!!!!!!! After a year of ordering parts and research, I had installed a cam, 1.8:1 roller rockers and set it up for a carburetor, mated it up to the old 4 speed and fired it up. I was in my glory "again." I drove it daily on the street for a while, time for the test. I brought it out to the drag strip, I made a pass of 14.1 my best ever. I made another 13.7, even better, I did some tuning even better I dropped to a best of 12.97 at 110 mph with really good track conditions and really good air, I cruised it around town I entered car shows (because I finally could again).
A new record was set for the mistress and myself on Friday, Aug 12, 2016, the stars aligned I hooked on bald street tires and pulled a 12.67 at 111 mph with a best-ever 60 foot of 1.89 seconds.
2018- Started out as a great year for me and the mistress. We ripped the interior out, patched some holes in the floors and re-assembled with new carpet, racing seats in the front and put the factory seats in the rear. Holes for the rear seat belts were drilled back out and rethreaded for the seat belts that were re-installed. The rear window was pulled out and tinted, the rear package tray got a little love with a new top and carpet with 3 speakers installed. Lots of work was done and more planned. We had some good times driving a couple nice smoke shows, then things took a turn for the worse. She had a hard ride and took some damage to the driver's side. I was devasted and angry when I first learned about the damage. She was pulled off the road and the wife's winter beater took her spot as the second daily driver for the family. I put her on the alignment rack at work after some time and small silver lining, with all the damage that was done the frame was still straight. Some bodywork definitely needs to be done. The Mistress is down but not out. She will come back with a vengeance.
2019- Aproximately half way through the season I decided I had enough of the Mistress lazing around in her pity from last year. I picked her up off the ground, cleaned the rocks and gravel from between the wheels and tires, straightened the body panels as best I could by hand and insured her. We had an excellent rest of the season together despite her showing her age, (transmission and diff are whining real bad). She still performs an epic burnout and gets down the street safely. We also made a nice little trip out to Azzouzzetta Lake with Camaro people from all over Western Canada. Was an excellent trip. Hoping to have more like this while she is still on the road.