GOLD DIGGER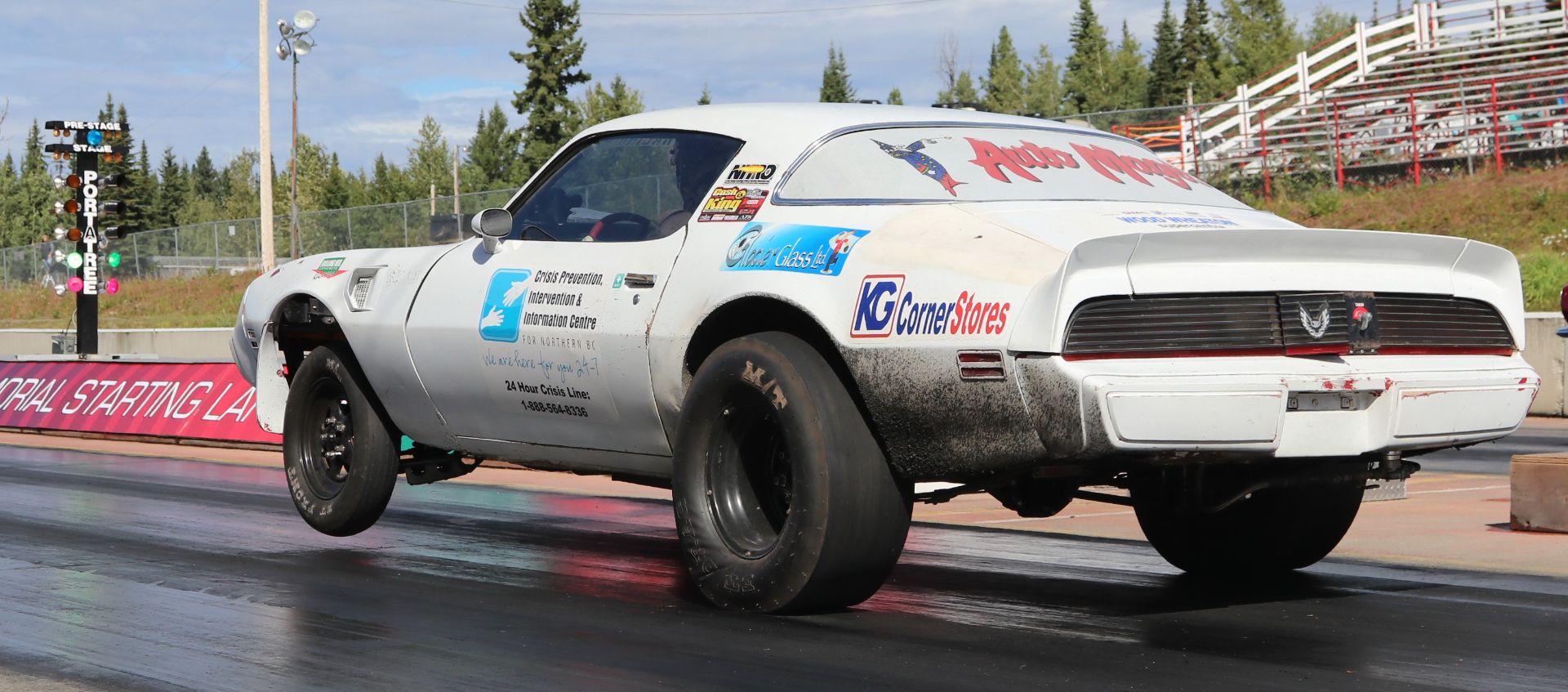 VEHICLE INFO:
BODY: 1980 PONTIAC TRANS AM
DRIVER: TONY WIEBE
WEIGHT: 3140 LBS W/DRIVER
ENGINE: 2003 CHEVROLET 6.0L (364 CU.IN.) LQ4
VEHICLE#: 988G
PERFORMANCE:
HORSEPOWER: 326.5 RWHP (450HP FLYWHEEL APPROX)
BEST LIGHT: .000 X5
1/4 MILE: 11.36 @ 116 MPH
TRANSMISSION:TH400 3 SPEED AUTOMATIC W/TRANSBRAKE, 5500 RPM STALL TORQUE CONVERTER
DIFFERENTIAL: 12 BOLT GM 3.73 GEARS, SPOOL, C-CLIP ELIM., RACE AXLES, DIFF GIRDLE
History
2015- Was donated a 1977 olds cutlass supreme brougham to be turned into a race car by Menkar Enterprises. Moved the car to Auto Magic for necessary repairs and upgrades, started stripping weight from the car gutting the interior, gutting the bumpers, trunk, wiring, etc. Got the engine running on 12-year-old fuel, I was very impressed, set rough timing and stripped exhaust. Got started on rust removal, when I stripped the vinyl top off the car found cancer hidden everywhere.
2016 - Decision was made to scrap this project, car body was sold for hit to pass, engine and trans was sold to a different project car in need.
Started search for another race car, looked at several gm cars some good, some not so good. Finally decided on a 1980 PontiacTrans am, came as a rolling chassis with a roll bar installed, built 12 bolt with a spool and 3.73:1 gears, several hundred pounds already shed, perfect start.
Acquired a 454 big block Chevy engine out of a motorhome (which we removed through the roof), installed it in the race car bone stock except for headers and very short exhaust, prepared the car for the track with all the safety stuff required to run with the cage and shifter, etc. Racetrack time. Made 2 passes that Friday with a best ET of 13.979 seconds and then a noise came. Sounded like valvetrain…….. Pulled the valve covers adjusted the rockers, re-assembled. Flashed up, the noise was gone, yay fixed. The next morning I made 1 more pass. The noise was back, worse than before. After careful listening, it was a connecting rod noise. Back on the trailer. Pulled the motor back at the shop, tear down revealed a spun rod bearing. After some number crunching and deadline estimating I hunted for a quick motor to throw in and run.
With no big blocks insight that were in my budget, I bought a small block with some nice accessories, like Doug Thorley tri-y headers, endurashine intake, new carb and new MSD distributor. I was stoked. Installed the engine, set timing and carb, brought to race track. First pass, why is this engine so slow?????? Checked the casting numbers, I was running a little 305. Time to make the best of it. Adjusted timing picked up some time, from 16.5 to 15.4 seconds, a little better but I expected better. More adjustments helped a little but brought on more problems, big stumble on launch. No amount of tuning would cure it. I acquired a cheap parts carb that was bigger than the one I had on. The jets were mangled. So I swapped the primary venturi to the smaller carb because they would flow way more air, swapped the accelerator pump squirters because they were much larger, then started re-tuning. It had never ran so well. Got down to 15.1 seconds, impressed. Did some horse trading for a 2500 rpm stall torque converter to replace the way to tight, 1200 rpm stall. Dropped 5 tenths of a second, huge difference, now a best of 14.6 seconds at 91 mph. Next weekend, worse air brings on more problems, stumble on top end. Check the spark plugs, black like these letters, running way to rich. Start re-jetting the carb to take fuel out. With more needing to be done
Ran in the Big Bux race at NITRO Motorsport park, Saturday, Aug 6 placed 3rd, hellz yeah.
Last event of the season I placed 3rd as well, losing by a mere .00115 of a second to Greg Dawson who finished second. Grrrr so close. Better luck next year
2017-Love the new motor in the car. After a lot of tuning on the laptop for my ignition timing and jetting the carb, I had the car running consistent 12.2 or 12.3 depending on the day and the calculated altitude. Very impressed, same stall converter, same transmission, same rear gears and I dropped 2.3 seconds in the quarter-mile and picked up 19 MPH now running 110MPH. Huge gains. Had a few small issues this year though. One race I won the quarter-final round and the car overheated on the return road and lost the water in the cooling system. After some diag I found the impeller on my new electric water pump had come loose and jammed itself against the backing plate, locking the water pump up solid. I managed to get it fixed but not in time to make the semi-final pass. It was a great racing year though, I managed 3 semi-final finishes out of the 5 events. Going into the final points race of the year, I was tied for 4th in points, a first-place finish could have put me in #1 points position. Luck would not be on my side though, during my 2nd qualifying round burn out the car stalled coming out of the box. On the attempted restart a backfire into the carb started a fire, it was put out with a fire extinguisher leaving a powder residue all over my motor and carb, with lots of clean up to do I was not able to make it back into the elimination rounds and my shot at #1 went up in flames. (Literally). I ended placing 8th overall not being able to collect any points in the last race. I was still happy with my seasons' results, I raced well, learned lots and had a pile of fun. In 2018 I have decided to move up a class into the No Box (Pro) class, I will continue learning, racing and chasing a 1st place finish, which I have not had in 2 seasons of racing but it is coming.
Chasing a #1 victory this year, I will do it.
2018- Started in the No Box class this year. Was a great decision. Racing against higher caliber racers teaches you a lot. I definitely made my share of mistakes this year though as well. Started out my first couple races with semi-final finishes, off to a good start. Had to race in sportsman class in a rainout race that was rescheduled from last year, placed 2nd in that race, finally broke through my semi-final curse. I managed to also win a 1st place win and somehow managed to accumulate enough points to become 1st place in the No Box class. Now all I had to do was hold on to it for two more races. Even though I didn't place in the last two races I still managed to hold on to 1st place and I get to collect the big trophy and the gold card at the year end banquet.
2019- No Box for the second season. Was a little more difficult this year. We did some more upgrades to the car including a transbrake and 5500 stall torque converter. this managed a 11.36 second pass at 116 mph later in the year, I managed to win a race early in the year, but then it went downhill with mostly 1st and second round losses. managed a surprising come back during the annual Big Bux race placing 2nd and collecting a sizable check in the mean time. Through out the year i managed to collect enough points along the way to squeeze into a 3rd place finish for the year, missing 2nd place by a mere 10 points. Was an excellent year and the car performed flawlessly but was allot of learnign with the new launching technique. Hoping to make a better season next year.